Keeping Tabs on Big Data Could Add Up for Algebraix
Original article can be found here.
San Diego Business Journal 
An aptitude for math is optional if you want to understand Algebraix Data Corp.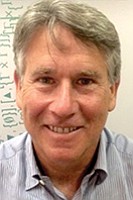 At the most fundamental level, the Encinitas business produces software that speeds up databases.
"It just makes things go wicked fast, relative to other technologies," said Charles Silver, the company's CEO and lead investor.
"We're about optimizing big data in the cloud, specifically on the Spark platform," Silver said.
For the present, Algebraix offers data science analytics to other companies. Customers include Khan Academy, the online education site, as well as high-profile financial services and health care firms.
Algebraix plans to release a query optimizer for big data during the fourth quarter of this year. It will be available in online marketplaces where people buy the rest of their cloud services.
Cloud computing has a "dirty little secret," Silver said: "it ain't cheap." Consequently, companies can benefit from speeding up the process. "Our software will reduce the total cost of ownership dramatically," the executive said.
How does it work? In a sense, Algebraix relieves the computer of having to go over the same old ground every time it does a calculation.
Imagine that a major department store runs a query on how many shoes it has sold, Silver said. Then it runs a query on how many women's shoes it has sold. Then it runs a query on how many blue women's shoes it has sold.
A conventional computer "has to power through the whole data set every time," Silver said. Algebraix Data's software, however, lets one query build upon another.
Algebraix holds nine U.S. patents. "Our portfolio is really around the concept of reuse — computational reuse," Silver said.
The company's first patent, from 2009, covers systems and methods for providing data sets using a store of algebraic relations. The most recent, from late 2013, covers indirect algebraic partitioning. There are 11 more applications going through the patent process. The company has foreign patents, to boot.
On top of all that, Algebraix's technology is able to manipulate data of varying types (think relational, tabular, text, voice and video) which reside in different "silos."
Why the preference for Spark? Silver said the technology is faster and easier to use than another database technology called Hadoop.
"Ease of use always wins in software," Silver said, citing the Google web search tool and Apple Inc. products as consumer-facing examples of the concept.
The company lays out its technology in a 176-page paperback book. "The Algebra of Data: A Foundation for the Data Economy" is also available as a download on the company website. An aptitude for math is helpful, but optional, for people who pick up the book, which has long sections that the general reader could understand. Sharing space with the equations and the philosophy about sets are illustrations such as a graph of the lyrics to "Hey Jude" — yes, the song by The Beatles.
Algebraix Data has 24 employees. Eight members of the research and development team are in Austin, Texas, where the company was founded under the name Xsprada. The rest are in Encinitas.
Algebraix Data has raised $45 million to date. So far, the investors have been individuals. Before the year is over, the business plans to raise another $25 million from big institutions. Silver said he would like to line up an investment bank as well as a big player in the cloud space (perhaps Amazon, IBM or Microsoft).
Silver said Algebraix's approach to business is somewhat backwards — perhaps akin to a biotech which finds a compound first and then looks for an illness it can cure.
"It's much easier when you're solving a business problem first and you use technology (afterward), versus developing a technology in search of solving a business problem," he said. "So I don't recommend this path."
Previously, Silver was founder and CEO of RealAge Inc., another San Diego company. Hearst Corp. bought RealAge in 2007, and Silver left shortly after the acquisition.
Silver got involved with Algebraix as an investor and soon found himself running the show. Personally, he said, he has invested millions of dollars in the company.
Looking ahead, Silver said his company could keep on getting patents (you can't patent mathematics but you can patent the way you apply it, he said). The executive mentioned the expansive wall in the lobby of Qualcomm Inc., covered with patent documents and representing all the patents that the corporation holds.
"Monetizing an IP (intellectual property) portfolio is something we think about all the time," the CEO said.
First, though, Algebraix Data has to prove its efficacy in the market.
"That's what it's all about this year," Silver said.
ALGEBRAIX DATA CORP.
CEO: Charles Silver
Revenue: Undisclosed
No. of local employees: 16
Investors: Silver and undisclosed individuals
Headquarters: Encinitas
Year founded: 2004
What makes the company innovative: Algebraix offers patented software that speeds up and improves cloud computing.